Back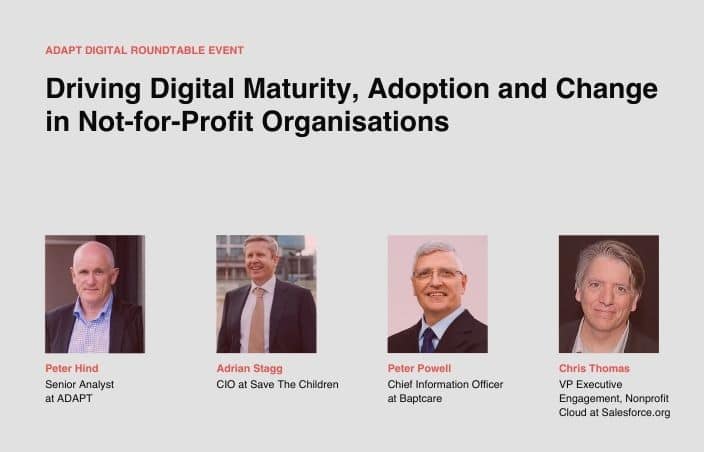 Driving Digital Maturity, Adoption and Change in Not-for-Profit Organisations
Read Summary
Digital Transformation
Workshop Recordings
Driving Digital Maturity, Adoption and Change in Not-for-Profit Organisations
Nov 29, 2021 | 2 min
Arguably, not-for-profit (NFP) institutions have continuously responded to the changing social needs of their customers, their supporters and the way that they deliver services — and in turn had to review processes, operating models and skills required to deliver the necessary services in a digital age.
The pandemic divided the need for services, with some NFPs seeing a surge in demand for services whereas others declined given the economic circumstances and drained resources. To continue providing the necessary services, many NFPs accelerated their digital footprint and anticipated continued investment in technology.
Key Takeaways:
Identify the core competencies needed…
Research & Advisory
Client-Exclusive Content
Members of ADAPT's Research & Advisory platform have access to an entire suite of local market research, case studies and resources to help them execute in their role.
Request a free trial
Already a member? Login